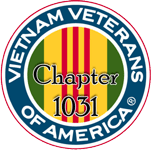 Vietnam Veterans of America
Chapter 1031
P.O. Box 2742
Escondido, California 92033-2742
Tel: (760) 666-9806
Welcome to Vietnam Veterans of America Chapter 1031. Our Charter and Articles of Incorporation were issued on November 3, 2009, and we are organized as a 501(c)(19) non-profit tax-exempt veterans organization. Our national organization consists of 47 state councils, 650+ local chapters, and over 79,000 members. We are tasked with the following mission:
Encourage/foster/promote a social network for all veterans and their families
Be an advocate of issues important to all veterans
Serve the local communities
WE DO NOT HAVE MEETINGS IN DECEMBER
Current meeting location is:
Veterans Association of North County (VANC)
1617 Mission Ave
Oceanside, CA 92058
Click HERE for a Google map of our meeting location
Don't let our name fool you; we are here to help ALL veterans. Veterans of the Vietnam-era conflict were dissatisfied with the lack of assistance in their search for solutions to the myriad of problems associated with service in Vietnam. They decided "enough is enough" and created an organization dedicated to giving a voice to ALL veterans of the U.S. Armed Forces - past, present, and future. Vietnam Veterans of America is a congressionally chartered veterans organization headquartered in Silver Spring, MD.